簽到天數: 588 天
[LV.9]以壇為家II
升格熱帶低壓,並上看110kt,非常看好發展。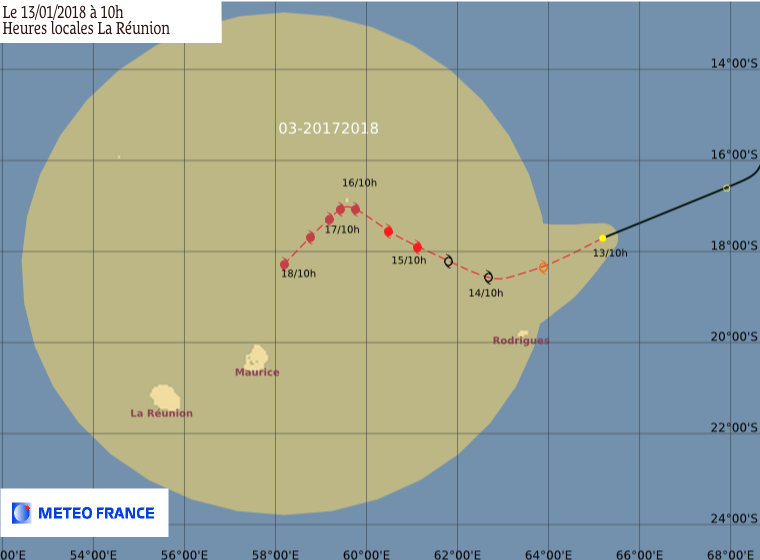 WTIO30 FMEE 130610

RSMC / TROPICAL CYCLONE CENTER / LA REUNION
TROPICAL CYCLONE FORECAST WARNING (SOUTH-WEST INDIAN OCEAN)

0.A WARNING NUMBER: 2/3/20172018
1.A TROPICAL DEPRESSION 3

2.A POSITION 2018/01/13 AT 0600 UTC:
WITHIN 20 NM RADIUS OF POINT 17.7 S / 65.2 E
(SEVENTEEN DECIMAL SEVEN DEGREES SOUTH AND SIXTY FIVE DECIMAL TWO DEGREES EAST)
MOVEMENT : WEST-SOUTH-WEST 6 KT

3.A DVORAK ANALYSIS: 2.5/2.5/D 0.5/12 H

4.A CENTRAL PRESSURE: 999 HPA
5.A MAX AVERAGE WIND SPEED (10 MN): 30 KT
RADIUS OF MAXIMUM WINDS (RMW) :56 KM

6.A EXTENSION OF WIND BY QUADRANTS (KM):
28 KT NE: 170 SE: 190 SW: NW: 170

7.A FIRST CLOSED ISOBAR (PRESSURE / AVERAGE DIAM): 1009 HPA / 1300 KM
8.A VERTICAL EXTENSION OF CYCLONE CIRCULATION : DEEP

1.B FORECASTS:
12H: 2018/01/13 18 UTC: 18.3 S / 63.9 E, MAX WIND=040 KT, MODERATE TROPICAL STORM
24H: 2018/01/14 06 UTC: 18.6 S / 62.7 E, MAX WIND=050 KT, SEVERE TROPICAL STORM
36H: 2018/01/14 18 UTC: 18.2 S / 61.8 E, MAX WIND=060 KT, SEVERE TROPICAL STORM
48H: 2018/01/15 06 UTC: 17.9 S / 61.1 E, MAX WIND=070 KT, TROPICAL CYCLONE
60H: 2018/01/15 18 UTC: 17.5 S / 60.5 E, MAX WIND=080 KT, TROPICAL CYCLONE
72H: 2018/01/16 06 UTC: 17.1 S / 59.8 E, MAX WIND=090 KT, INTENSE TROPICAL CYCLONE

2.B LONGER-RANGE OUTLOOK :
96H: 2018/01/17 06 UTC: 17.3 S / 59.2 E, MAX WIND=100 KT, INTENSE TROPICAL CYCLONE
120H: 2018/01/18 06 UTC: 18.3 S / 58.2 E, MAX WIND=110 KT, INTENSE TROPICAL CYCLONE

2.C ADDITIONAL INFORMATION:
T=CI=2.5

DURING THE LAST NIGHT, DEEP CONVECTION HAS REMAINED STRONG AND HAS MAINTAINED NEAR THE CENTER. 0225Z SSMIS MICROWAVE IMAGERY SHOWS THAT CONVECTION REMAINS ESSENTIALLY LOCATED WITHIN THE NORTHWESTERN QUADRANT BUT STARTS TO DEVELOP OVER THE SOUTHEASTERN QUADRANT. ACCORDING WITH THE 0426Z ASCAT, THE INTENSITY IS ESTIMATED AT 30KT.

THE SYSTEM IS FORECASTED TO KEEP ON ITS WESTSOUTHWESTWARD TRACK. FROM SUNDAY, IT SHOULD BUMP INTO A STRONG RIDGE BUILDING UP IN THE SOUTH OF MADAGASCAR, AND THEN TRACK NORTHWESTWARD ON THE NORTHEASTERN SIDE OF THIS RIDGE. FROM TUESDAY, AS THE RIDGE SHIFTED EASTWARD, A MID/UPPER LEVEL TROUGH IS EXPECTED TO MOVE SOUTH OF MADAGASCAR. ACCORDING WITH THIS PATTERN, THE SYSTEM SHOULD SHOULD BEND PROGRESSIVELY TOWARD THE SOUTHWEST. DETERMINISTIC MODELS ARE OVERALL IN GOOD AGREEMENT WITH THIS PHILISOPHY. ON THE OTHER HAND, THERE IS A LARGE DISPERSION ON THE LOCATION AND THE TIMMING OF THE SUCCESSIVE CURVES. THIS ADVISORY FAVORS THE ECMWF FORECAST WITH A SYSTEM THAT KEEP ON TRACK THE LONGER NORTHWESTWARD.

THE SYSTEM IS EXPECTED TO ENCOUNTER VERY GOOD ENVIRONMENTAL CONDITIONS TO INTENSIFY. IT EVOLVES UNDER THE UPPER LEVEL RIDGE WITH A LOW VERTICAL WIND WINSHEAR. FROM SUNDAY, UPPER LEVEL DIVERGENCE IS FORECASTED TO IMPROVE WITH BOTH POLERWARD AND EQUATORWARD OUTFLOWS.

THE NEXT WEEK, A MATURE SYSTEM SHOULD EVOLVE IN THE VICINITY OF MASCASRENES ISLANDS. INHABITANTS ARE INVITED TO MONITOR THE EVOLUTION OF THIS SYSTEM IN THE NEXT DAYS.