簽到天數: 868 天
[LV.10]以壇為家III
本帖最後由 jrchang5 於 2018-11-9 11:05 編輯

JTWC於今(9)日0130Z發布TCFA.
WTPN21 PGTW 090130
MSGID/GENADMIN/JOINT TYPHOON WRNCEN PEARL HARBOR HI//
SUBJ/TROPICAL CYCLONE FORMATION ALERT//
RMKS/
1. FORMATION OF A SIGNIFICANT TROPICAL CYCLONE IS POSSIBLE WITHIN
135 NM EITHER SIDE OF A LINE FROM 7.7N 174.9E TO 9.6N 167.5E
WITHIN THE NEXT 12 TO 24 HOURS. AVAILABLE DATA DOES NOT JUSTIFY
ISSUANCE OF NUMBERED TROPICAL CYCLONE WARNINGS AT THIS TIME.
WINDS IN THE AREA ARE ESTIMATED TO BE 25 TO 30 KNOTS. METSAT
IMAGERY AT 082330Z INDICATES THAT A CIRCULATION CENTER IS LOCATED
NEAR 8.0N 174.4E. THE SYSTEM IS MOVING WESTWARD AT 08 KNOTS.
2. REMARKS:
THE AREA OF CONVECTION (INVEST 98C) PREVIOUSLY LOCATED NEAR 7.0N
177.2E, IS NOW LOCATED NEAR 8.0N 174.4E, APPROXIMATELY 393 NM EAST
OF KWAJALEIN. ANIMATED MULTISPECTRAL SATELLITE IMAGERY SHOWS DEEP
CONVECTION LOCATED TO THE WEST OF THE POORLY DEFINED LOW LEVEL
CIRCULATION CENTER (LLCC). THE INITIAL POSITION IS PLACED WITH POOR
CONFIDENCE AND IS BASED ON A 082202Z METOP-A ASCAT IMAGE WHICH SHOWS
THAT THE LLCC IS POORLY ORGANIZED AND CONTINUES TO CONSOLIDATE.
HOWEVER, THERE IS A SWATH OF 25 TO 30 KNOT WINDS LOCATED NORTH OF
THE LLCC. 98C IS EXPERIENCING FAVORABLE VERTICAL WIND SHEAR (10 TO
15 KNOTS) AND HAS A DEVELOPING POLEWARD OUTFLOW CHANNEL. SEA SURFACE
TEMPERATURES ARE FAVORABLE FOR DEVELOPMENT, BETWEEN 28 AND 30
DEGREES CELSIUS. GLOBAL MODELS SHOW 98C TRACKING WEST TO
NORTHWESTWARD AND CONSOLIDATING OVER THE NEXT 24 HOURS WITH THE
STRONGEST WINDS REMAINING NORTH OF THE LLCC. MAXIMUM SUSTAINED
SURFACE WINDS ARE ESTIMATED AT 18 TO 23 KNOTS. MINIMUM SEA LEVEL
PRESSURE IS ESTIMATED TO BE NEAR 1003 MB. THE POTENTIAL FOR THE
DEVELOPMENT OF A SIGNIFICANT TROPICAL CYCLONE WITHIN THE NEXT 24
HOURS IS HIGH.
3. THIS ALERT WILL BE REISSUED, UPGRADED TO WARNING OR CANCELLED BY
100130Z.//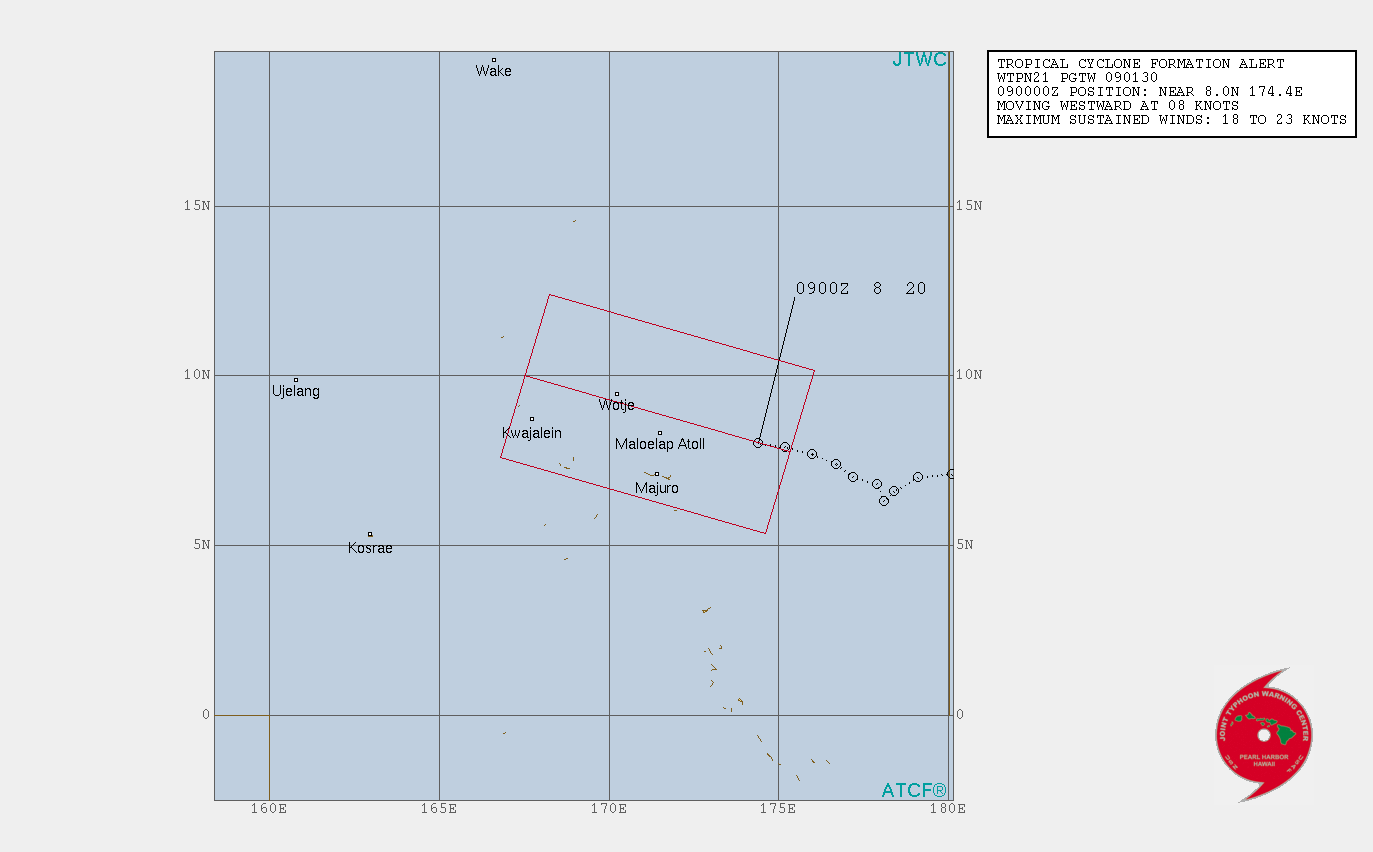 另JMA亦於今(9)日0000Z升格為TD.

TROPICAL DEPRESSION 1002 HPA AT 08N 176E WEST 10 KT.